Ancient Greek has two words for time, both used in the New Testament. Chronos is the measured passing of time as on a clock, time moving from past to present to future. Kairos, which originally referred to the right time to fire an arrow to best effect, or the moment in weaving when the shuttle should be sent through the loom, refers to an opportune or decisive moment to do something, especially something significant, and usually at a time of crisis or tension.
An example of kairos in Jesus' preaching is in Mark 1.15:
Jesus went into Galilee, proclaiming the good news of God. "The time [kairos] has come," he said. "The kingdom of God has come near. Repent and believe the good news!"
And our Bible reading when we meet will be 2 Corinthians 6.1-2:
We appeal to you not to receive the grace of God in vain. For he says, "In a favourable time [kairos] I listened to you, and in a day of salvation I have helped you." Behold, now is the favourable time; behold, now is the day of salvation.
So kairos time is time as a quality, time that is always in the 'now', and which therefore cannot be subject to measurement. Because it is always in the present, it is also eternal, and therefore it is also the time of Heaven. In our current crisis, it is kairos as opportune moment which is foremost.
Of course we can agree that this kairos is an opportune moment, but differ sharply on what it is opportune for. The pandemic comes at a time when our society is becoming increasingly polarised. It seems to be getting more difficult to find common ground, and the outcome of the kairos might not be what we would like to think it should be.
What is more, we've got to reckon with 'just how stubborn the old structures are', as Martin Parker warns: most people to assume that the future will be like the past. The challenge is to 'present images of the future that motivate people to imagine change'.
Preparatory reading and reflection
If you can, please find time to read Existential risk and the Sabbath of the land by Greg Smith, and watch Coronavirus capitalism, this 8-minute video by Naomi Klein.
Naomi Klein suggests two possible outcomes from the pandemic, but you might like to read this alternative take by Simon Mair, who identifies four possible futures, illustrated below – or listen to him in this half-hour podcast.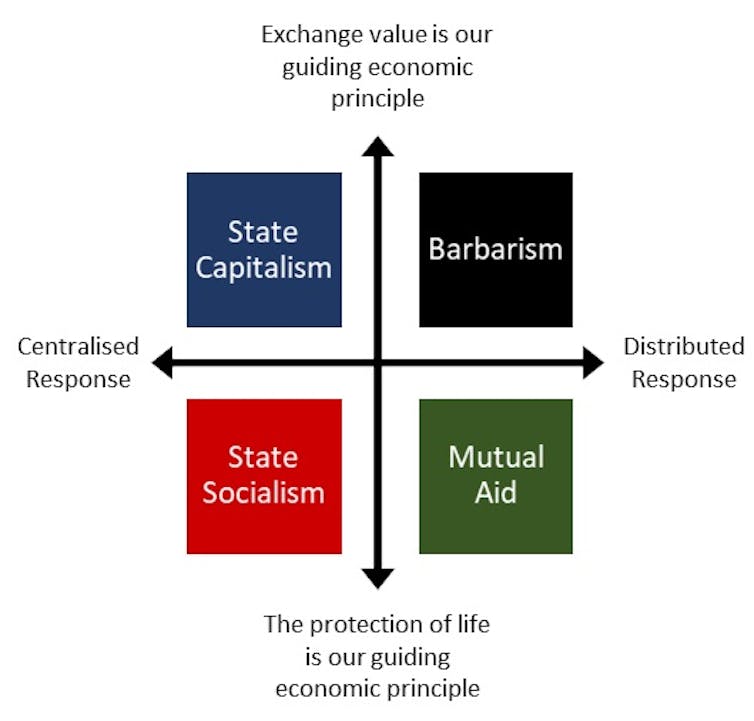 For a reality check, have a look at Martin Parker's article Coronavirus: have we already missed the opportunity to build a better world?
Opening liturgy
Together with all in Christ, we wait
Come Holy Spirit; soak into our deepest being
We reflect together with all your people
Come Holy Spirit; breeze through our staleness
We will hear the scriptures together
Come Holy Spirit; fire up our imaginations for good
There follows a moment of quiet. We'll then read the passage from Corinthians quoted above:
We appeal to you not to receive the grace of God in vain. For he says, "In a favourable time I listened to you, and in a day of salvation I have helped you." Behold, now is the favourable time; behold, now is the day of salvation.
Questions for exploration
We will start the group by checking in with each other, or introducing ourselves, for a minute each. Please also find a volunteer to summarise your group's conclusions for the record of 'key thoughts'.
'In the day of salvation I helped you' – but does our civilisation want to be helped? How do you feel about this time? Do people around you perceive this as a spiritual crisis as well as a medical and economic one?
Naomi Klein outlined a binary choice between two possible futures, and Simon Mair suggests four. How do you think things will pan out?
There seems to be growing debate, dissent and recrimination about how to respond to the pandemic. Is this a sign of a healthy democracy, 'a culture war' or just resistance to change as Martin Parker suggests?
In his article Greg Smith is optimistic: he says 'there are almost certainly going to be some long-term cultural and social transformations'. How do we use this time now to ensure that they are for the better? And how do we engage with people who resist change?
Closing liturgy
After considering these questions, click here for a liturgy which responds to today's theme.
---
The Chelmsford group, with Imogen Nay and Andy Griffiths, explored the potential for Kairos to signal a shift to slower, simpler life; a Universal Basic Income; and more shared ownership on early-Church principles. Today's 'Kairos for net-zero' is as historic as when in 1985 the churches of South Africa took their stand against apartheid in the so-called Kairos Document.